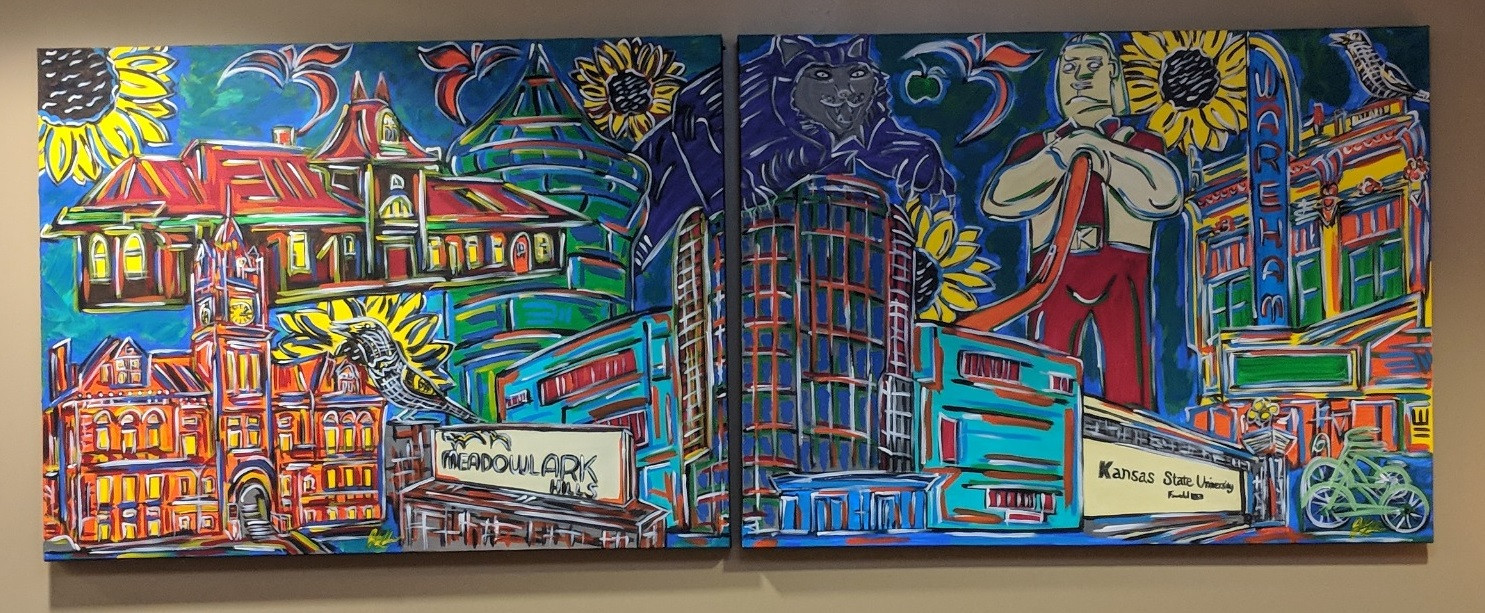 Kansas Room Pub-goers and Meadowlark's Art Committee have long been united in their wishes to add art to the pub that reflects the vibrancy of the space. The landscape painting that previously hung on the west wall is lovely, for sure, but many thought it was too tranquil for the boisterous atmosphere of our Wednesday ice cream socials and our nightly cocktails and conversation.
   The landscape painting was moved to the north wall of the Community Room, and two slices-of life paintings by Manhattan resident Ann Carter have been hanging in its place. Those two paintings depict activity – one a rummage sale and the other a performance by the now-defunct Uptown Band – but the scenes, while humorous and friendly, weren't large enough in the often dim light of the pub to make the desired impact.
   When a couple of anonymous donors offered to fund a new piece for the pub earlier this year, Jayme Minton and Becky Fitzgerald, staff representatives on the Art Committee, began looking for something large, colorful and interesting. Something that prompt conversation. Something as lively as the activity often found at the pub.
   The result of that effort can now be seen. Two 30 x 40-inch canvases were painted to hang sideby-side by Jacob Luke of Kansas City, Mo. With input from the Art Committee and the donors, Jacob created a colorful montage of several iconic Manhattan landmarks, including the Johnny Kaw statue and the Riley County courthouse. Look close, and you'll find two meadowlarks, one of which is a depiction of the statue at Meadowlark's entrance off of Kimball Avenue.
   The quest to find a suitable painting took several months. Jayme looked online at paintings offered by the local and area galleries. Becky and Jayme met with Alyn West, gallerist at Manhattan's Strecker-Nelson-West Gallery. Becky and her husband, Tim, visited galleries in downtown Kansas City.
   We were the Goldilocks of art buying. The paintings we saw were either too small, too sedate, too muted, or too expensive. Would we ever find one that was just right? Also, in order to be added to Meadowlark's permanent collection, the painting must be by a Kansas artist and/or represent a Kansas scene. In June, the Fitzgeralds attended a gathering at the Kansas City home of a friend. Becky walked a few steps through the door when a colorful painting in the entryway caught her eye. Closer inspection revealed it to be a collection of images representing Kansas City, such as the Boulevard Brewing Company's delivery truck, the shuttlecock sculpture at the Nelson-Atkins Museum of Art, and the 18th and Vine blues district. "Where did you get this painting?" she asked her host. "I had a friend paint it for me," he answered. "He'll be here tonight." 
   A conversation with the artist, Jacob Luke, at the party led to visiting his website, Kansascityhues.com, and showing photos of his work to the Art Committee and the donors. Could he create a painting representing Manhattan similarly to how he had captured Kansas City? With everyone believing his style of painting would suit the pub and in agreement about the Manhattan places to include, Becky sent photos of those places to Jacob and several email conversations followed.
   During the process, he emailed photos of pencil drawings of how he'd like to arrange the landmarks, prompting the staff and donors to ask for a few tweaks. After the revised drawings were approved, Jacob swapped a brush and acrylic paint for the pencil, keeping the committee's request for a "variety of colors" in mind. Jayme and Becky picked up the paintings while in Kansas City for the recent exhibit at the Buttonwood Art Space, and they were hung on Oct. 9. Jacob saw a photo of his pieces in their new home, and learned that early reviews are favorable. "I'm so pleased people are enjoying them," he said. "Positive feedback is a huge plus. 
   The colors can get a bit crazy, but I do my best to please everyone with the end result." Jacob won several awards with photography while in high school, and studied architecture and art history at Kansas State. He graduated in 2006 with a degree in business and began painting when he moved to Kansas City. His work has been displayed at several Kansas City area shows, and is hanging in homes across the country. While a college student, Jacob was a season ticket-holder for K-State football and basketball and volunteered with an afterschool program for elementary students. "I have a lot of love for Manhattan," he added. 
---