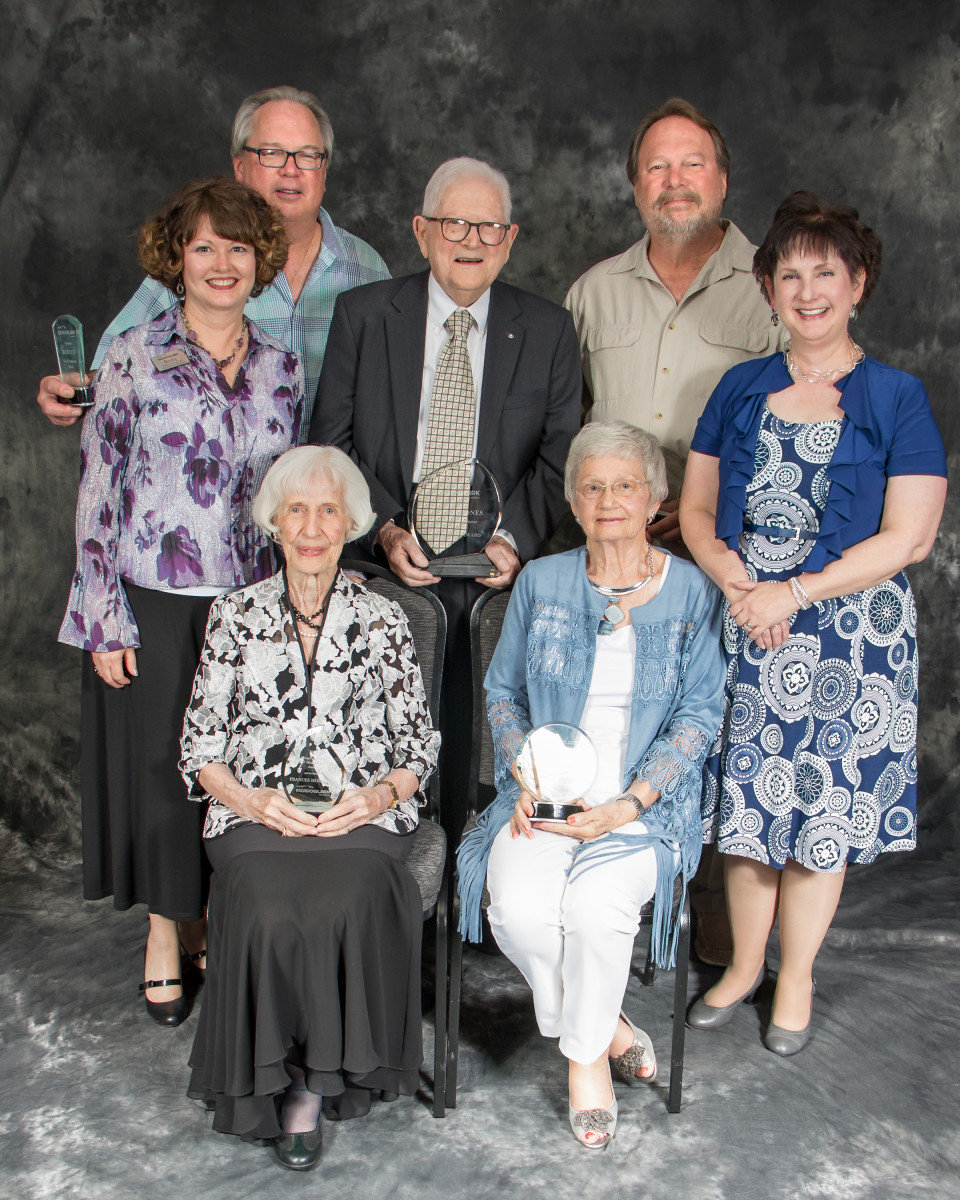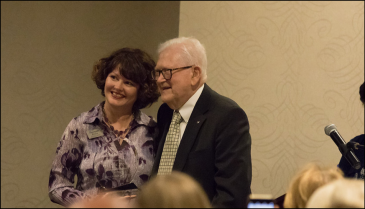 The C. of C. Clyde Jones's name stands for Clifton, but it could very well stand for "Community". A seemingly tireless leader, mentor, consultant, philanthropist, and volunteer, Jones at 95 is a friend and inspiration to many people and many Manhattan area causes and organizations.
    A volunteer award given annually by Manhattan Area Chamber of Commerce bears his name, as do a Wildcat football career development program, a charity 5K fun run and walk, and a graduate scholarship in business administration.
   "If I have to sit in a rocking chair, I'm ready to go right now," Jones told The Manhattan Mercury in December. "I don't want to live without being able to be involved and stay active."
   Even a partial list of past and present organizations benefiting from Jones's interest and passionate involvement is a long one. His significant professional and volunteer contributions have greatly impacted the Manhattan and Meadowlark communities and drew the attention of Meadowlark staff and board members. He received the 2018 Legacy Award on Monday, May 14, at the 16th annual Legacy Society Banquet sponsored by Meadowlark Foundation. The award, presented by Lisa Sisley, the Foundation's Board of Directors president, recognizes a public service-minded individual who has made significant volunteer and financial contributions to our community.

     Jones and his late wife, Margaret "Midge", moved to Manhattan in 1960 when he was hired as the head of the K-State business department when it was still part of the College of Arts and Sciences. Two years later, he became the first dean of the School of Commerce (now the College of Business Administration). He later became vice president of university
development and served as a representative to the Big Eight Conference and NCAA, and as an adjunct faculty member for the Center for Aging.
    Jones has volunteered for Shepherd's Crossing since it was founded in 2001, working as a counselor before becoming development coordinator. Other Manhattan not-for-profits benefiting from his time and talent include First United Methodist Church, Konza United Way,
Manhattan Area Chamber of Commerce and Manhattan Rotary Club.
   A Legacy Society member, Jones first became acquainted with Meadowlark when his mother in 1980 was one of the first residents to move to a skilled nursing room. Gifts in memory of his mother, Clyde's sister, and Midge's mother preceded larger contributions to two of Meadowlark's capital campaigns. In 2016, Clyde responded to the Honor a Legacy initiative with a major gift in memory of Midge to help pave the trails at Bayer Pond Nature Area.
   The Legacy Society includes individuals who have named Meadowlark Foundation as a recipient of charitable support through estate planning. In addition the Society welcomes donors who have given one-time or cumulative gifts which total $25,000 or more.

    Other honorees at the May 14 event included Bud and Bobby Cox, who received the Good Samaritan Award; resident Sandra Emley, winner of the Johanna Lyle Excellence in Service Award; and resident Frances Holcombe, winner of the Margaret Wheat Spirit of Meadowlark Hills Award.

   Co-owners of Cox Bros. BBQ in Manhattan, Bud and Bobby Cox offered to host a fundraising event at the smokehouse in 2014 to benefit the Good Samaritan Fund. This event, called HOGtoberfest, has become a successful tradition. Cox Bros. BBQ donates 10 percent of that day's proceeds each year to the fund.
   Bud Cox personally raised money for the fund in 2014 and 2015 as a HOG & Kisses Contest participant.
   Since 2011, Cox Bros. also has supported the Meadowlark Parkinson's Program with Pig Out for Parkinson's, with 10 percent of the Pig Out proceeds going to the Program. At the Speedy Pd Race for Parkinson's Disease, Cox Bros. BBQ is an in-kind sponsor, serving complimentary barbecue to race attendees.

    Sandra Emley and her husband, Don, moved from Manhattan to a 3rd-floor Meadowlark Hills apartment in 2006. In Manhattan, Sandra served on the KSU Foundation board and was a charter member of the Friends of McCain Auditorium board and First United Methodist Church's foundation board. She has taken 100 hours of training to serve as a Stephen Minister and Leader, and she belonged to Manhattan Rotary Club.
   At Meadowlark, her volunteer efforts have included the Board of Trustees, and she's currently a Board of Directors member, serving on the investment committee.

   The spirit award honors a resident who embodies the spirit and person-directed culture of Meadowlark Hills. Frances Holcombe moved to Meadowlark Hills in 2014 from Texarkana, Texas, and jumped heart, hands, and feet into the community. Now 93, she is quick to volunteer, and she encourages changes for the better. She serves on the Art Committee and is a resident ambassador. She assists with the annual auction, tidies the Lyle House patio, and greets new residents and Passport members at our Welcome Breakfasts.

     About 105 residents, staff, current and former board members and Legacy Society members joined the winners at this year's event, which was held at the Bluemont Hotel. Prior to the awards presentation, a video titled "Meadowlark: Evolution of Community" was shown for the first time. A few staff members got together several months ago with the desire to tell current stories of change, believing that adaptation is a key part of successfully navigating our future.
   We reached out to 502 Media in Manhattan to help us – staff, residents and volunteers --communicate the various ways Meadowlark continues to evolve. The video will be shown at the June Town Meeting, set for 9:30 a.m. Monday, June 4. The full video can be viewed by clicking the following link:  https://www.youtube.com/watch?v=npAHvjYKf4w.

   Legacy Society members invest in Meadowlark Hills and ensure the future of Meadowlark's programs and services. New members are always welcome! If you'd like to know more about Society membership, please contact Becky Fitzgerald, Development Director, at 323-3843.
---