Meadowlark Home Health gains donated Toyota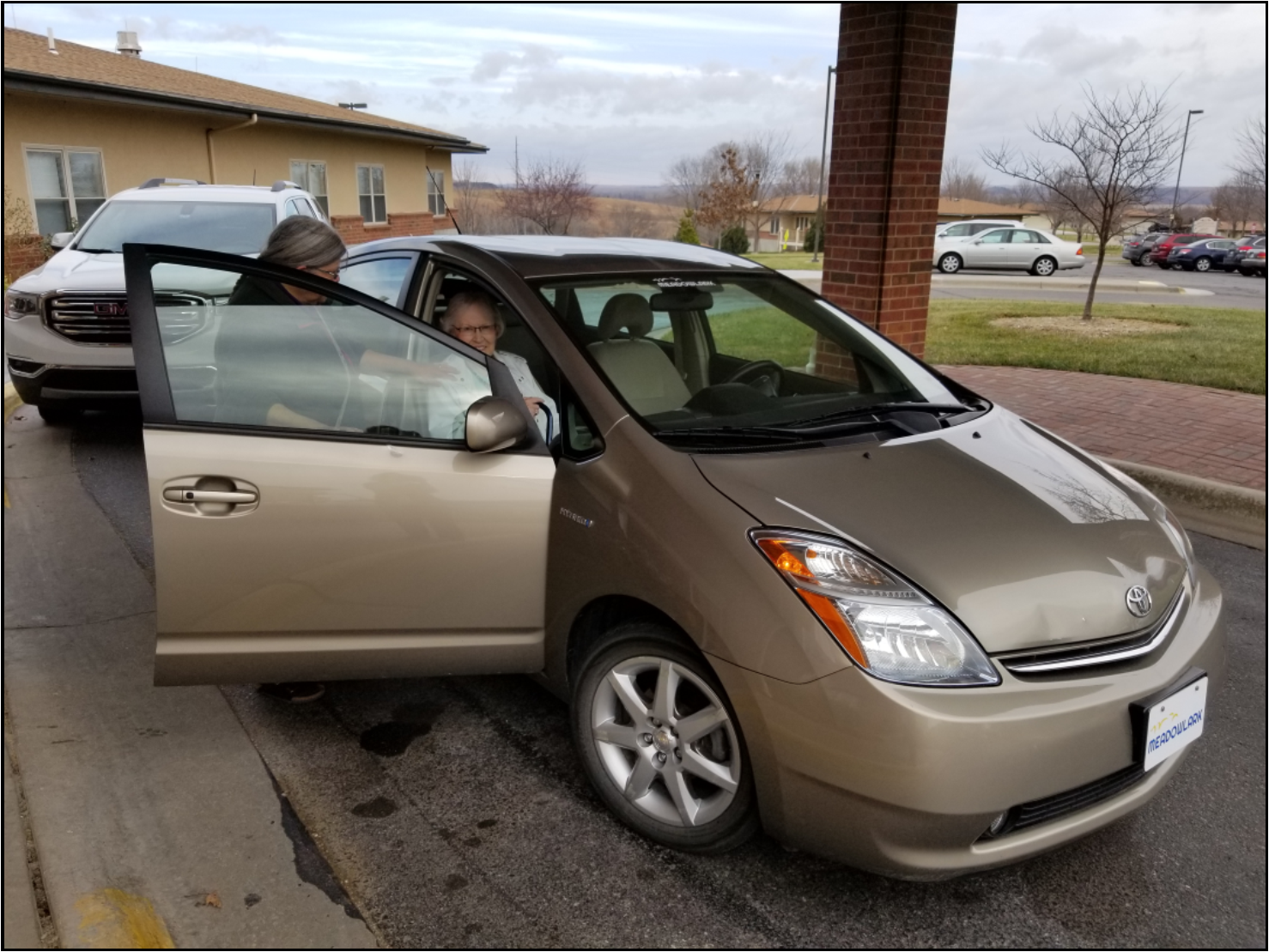 Christmas came early for Meadowlark's Home Health staff! In November, residents Duane and Pat Miksch offered to donate their 2007 Toyota Prius to Meadowlark Foundation, and it didn't take long to determine the car would be a welcome addition to Meadowlark's fleet.
Transportation leader Dave Prockish mentioned the potential gift to Jayme Minton, Support Service Director, and Angele Gerena, Home Health Office Manager, and both agreed that the Prius would boost their capacity to serve their clients. After telling the Miksches that another set of wheels was on Home Health's wish list, they cheerfully agreed to the donation.
The Prius, a gasoline/electric hybrid, becomes the second donated car and third total vehicle available to Home Health staff. Aides and companions drive the cars when transporting clients to appointments, activities, lunches, etc., or as they run errands for clients or meet clients who live off campus.
For example, on a recent Monday, companion Arlene Lundberg used the Prius to drive resident Joanne Michel to her weekly hair appointment and then to lunch at a local restaurant.
Meadowlark is a 501(c)3 organization and is qualified to receive tax-deductible contributions. The Miksches completed a Gift-in-Kind form, listing the fair market value of the Prius, as well as an IRS form for noncash charitable contributions. Meadowlark Foundation provided both forms. The Miksches consulted a local car dealership to determine the hybrid's fair market value, and this amount will be claimed as a charitable contribution deduction.
If Meadowlark had not needed to use the car, the car would have been sold, and the Miksches could claim as a deduction the amount of the gross proceeds from the sale.
Thank you, Duane and Pat, for remembering Meadowlark Foundation! If you have questions about noncash contributions, please contact Becky Fitzgerald, Development Director, (785) 323-3843.
---